Pay-as-you-go (PAYG) has always been the preferred choice for many electric vehicles (EV) drivers, as it allows them to pay for what they use. However, Pre-Pay could also become a preferred option if it offers clear financial and practical consumer benefits! This post will provide insights into this traditional but innovative payment method and answer this question: Can it be a good deal for EV drivers and/or eMobility service providers (EMSP)?
How does a Pre-Pay offer works?
The Pre-Pay structure is based on a charging value offered at a discounted value. The charging value is a monetary amount that includes a discount with an expiration date. These parameters can be set independently.
Example:
Offer name: Superuser pack
Value: $100
Discount 10%
Expiry date: 12 Months
EV drivers will be able to charge $100 with all transactions discounted by 10%, resulting in a $110 charging value. The remaining balance can be tracked in the user's virtual smartphone wallet. After 12 months the remaining amount will be deleted unless he re-orders (top up) another Pre-Pay offers to extend the lifecycle of the wallet.
One Offer: Multiple applications & benefits!
At Saascharge, Pre-Pay is more than just a charging value with a discount! The strength of this model is that the same offer can be deployed in different applications for different groups of consumers.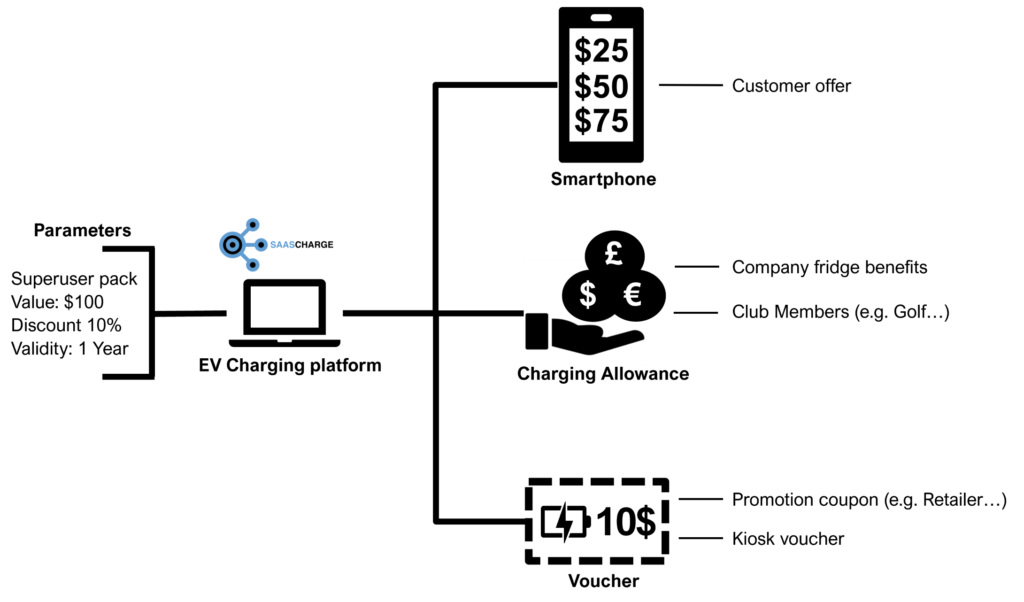 Service offer: Create attractive offers for EV Drivers to commit to your charging network.
Charging allowance: Offer charging allowances is a way to provide charging for "free" with a limitation. This is ideal for company employees, Golf Club members or any other organization.
Voucher/coupon: This is the all-time classic marketing tool to run acquisition campaigns and encourage EV drivers to shop and charge at your location (e.g. Restaurant, Retail store, Shopping centres…). For example; $10 of charging value for any stay at our hotel.
What are the Pre-Pay benefits for EV Drivers?
Why would an EV driver be happy to commit to a network by purchasing a pre-paid offer?
1. Better deal: Getting an attractive discounted charging offer or a promotional coupon for free charging
2. Budget control: By paying in advance, EV Drivers can control their expenses and stick to a budget
3. Convenience: Pre-pay accounts allow EV drivers to easily manage expenses without having to worry about monthly billing cycles or credit card fees.
What are the benefits for eMobility providers?
Pre-pay provides even more benefits for electric vehicle companies than for consumers:
1. Attract new customers: Gain new customers by offering a voucher, charging allowance or attractive Pre-Pay offers. For example, a coupon to celebrate the rollout of new charging stations.
2. Improve customer loyalty: A pre-Pay will ensure that the EV driver will use your network on a long-term basis. A voucher gift could also be used as a present to retain customers.
3. Increasing revenues and cash flow: Pre-pay customers typically pay in advance, which can increase a company's revenue but also improve their cash flow.
4. Reduce payment processing fees: Credit card transactions could represent 10 to 0.30 ct. per transactions. This could be saved with one large transaction.
Pre-Pay or Pay-as-you-go? What shall we do?
We believe that both payment methods should be presented with clear differentiation: "Pay as you go" as the standard service and "Pre-Pay" as a bargain offer. In summary, a driver should be rewarded for their commitment to pay in advance for a Pre-Pay offer.
Billing promotions as a strategy – Start now!
The objective of any e-mobility service provider is to attract, retain, and encourage EV drivers to charge on their network. The Saascharge billing solution should support this objective with its Pre-Pay portfolio. Choose your objective (whether it be a new offer, promotion, or charging allowance), create your Pre-Pay offer, and increase your revenue!